Russian maritime shipping company specializing in petroleum and LNG shipping, PAO Sovcomflot (SCF Group) held a traditional meeting of the company's management with masters of Sovcomflot vessels on the eve of Russia's Day of Marine and River Fleet Workers, celebrated on the first Sunday of July.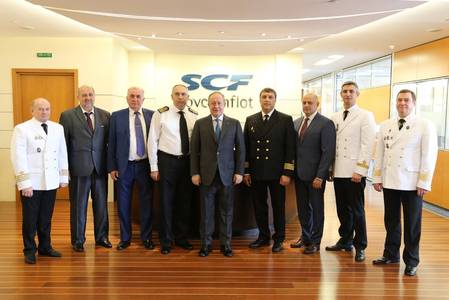 Photo: SCF Press Service
The state-owned corporation said in a press note that in the lead-up to this day, Russian Ministry of Transport has awarded 43 masters and 48 chief engineers of Sovcomflot vessels its Badge for Accident-Free Work in Maritime Transportation.
During the meeting, Sergey Frank, President & CEO of Sovcomflot, expressed his gratitude to the company's senior fleet officers for their operational excellence and significant contribution to ensuring safe and reliable sea transportation of cargo for the company's customers.
Sergey Frank noted that a certain rebound in the global tanker market freight rates has contributed to the improved operating and financial performance of the company in the first half of 2019.
According to the company's operational accounting system, time-charter equivalent revenues for the reporting period exceeded that of H1 2018 by almost 30 per cent.
Sergey Frank also briefed the participants on the main direction of the company's strategy up to 2025, which was approved by the Board of Directors on 23 May 2018.
This strategy envisages the steady improvement of Sovcomflot's operational and financial performance, principally through further growing the share of advanced vessels serving large-scale energy projects in the Arctic Sea Basin, as well as through top quality service secured by steadfastly maintaining the highest standards of navigation and environmental safety in line with Sovcomflot's core principle, 'Safety Comes First.'